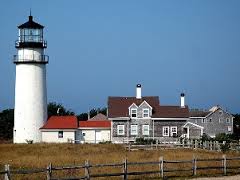 History: After first landing in Provincetown, the pilgrims found a much needed Native American reserve of corn. The corn and fresh water helped sustain them through their first winter in the new world. That finding is memorialized on a plaque at Corn Hill.Unlike the peaceful Truro of today, Truro was a bustling economic center from the early 1700s until the mid 1800s. Fishing, whaling, ship building and salt production were only a few of the industries supporting the Pamet area. Storms and marine disasters led to the decline of shipping and whaling in the area and new methods of producing salt ended that endeavor as well.
But the Truro of today is a serene reminder of Old Cape Cod. With most of its land preserved by the Cape Cod National Seashore and the absence of a true town center and shopping district, one could easily pass right through Truro without a thought. What a shame it would be to miss the beautiful beaches, historic sites, art galleries and outdoor activities.
Activities/Places of Interest: From historical landmarks to the Highland Links Golf Course, Truro offers a variety of activities for visitors and locals alike.
Truro Historical Museum: The Museum on the site of the Highland Lighthouse has an impressive collection of records and artifacts from Truro's rich history. Call 508-487-3397 for more information or visit the Truro Historical Society website which also contains information about visiting the Highland Lighthouse. Also for the history buffs, Truro has some wonderful old churches and cemeteries with interesting, old headstones.
Castle Hill Center for the Arts: The center offers classes in painting, sculpting, drawing (to name a few) for novices and advanced, adults and children. The center also sponsors lectures and other activities. Call 508-349-7511 for more information or visit their site at: www.castlehill.org..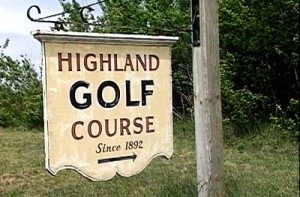 Highland Links Golf Course: Cape Cod is also a golfer's paradise. Where else can you golf almost year-round? Check out the complete list of Cape Cod Golf Courses at Golf Cape Cod. Die-hard golfers will love the Highland Light Golf Course in Truro, a nine hole, Scottish links style course overlooking the raging ocean. Call for tee-times at 508-487-9201.
Truro Beaches: Truro has some of the most stunning beaches on Cape Cod. From the crashing wave beaches of the ocean side (Longnook Beach) to the peaceful bay side (Corn Hill), there is bound to be a beach for everybody. Don't miss the sunsets on the bay side. Parking stickers are required for the majority of the Truro beaches.
Additional information about Truro is available through the Chamber of Commerce at 508-487-1288 or at their website:http://www.trurochamberofcommerce.com.
Town of Truro web site: www.truro-ma.gov